FAQ
De meeste vragen zijn al een keer gesteld. Je vindt het antwoord op deze vragen hieronder.
1. Vragen over de functie van onze shop
Is het mogelijk een behangstaal te bestellen?
Het is niet gemakkelijk om uw favoriete design te kiezen. Daarom kunt u bij ons een of meerdere behangstalen van het gewenste artikel bestellen. Op die manier kunt u zichzelf makkelijk overtuigen van de fantastische kwaliteit van onze producten. Thuis kunt u op uw gemak de kleuren, de structuur en het materiaal bekijken en betasten. U kunt alles uitproberen, combineren en dan beslissen. Het bestellen van een behangstaal voorkomt een koop waar u niet tevreden mee bent.

Meer informatie over de bestelling van behangstalen vindt u hier.
Hoe kan ik bestellen?
Om een bepaald product te vinden kunt u een zoekwoord, bijvoorbeeld kleur, artikelnummer of een ander woord in onze zoekfunctie invullen. Of u zoekt via onze navigatie aan de linkerkant van het beeldscherm. Leg om te bestellen het gewenste product in de winkelwagen. Klik vervolgens op het icon "Uw winkelwagen".
Winkelwagen
Hier kunt u het aantal producten veranderen of wissen. Uiteraard kiest u hier uw betaalmethode en leveringsvoorwaarden. Door het klikken op "Naar de kassa" begint de bestelprocedure.
Login
Bent u nog niet ingelogd dan kunt u nu inloggen. Geef nu uw e-mailadres aan en het eerder door u gekozen wachtwoord. Is dit de eerste bestelling in onze shop? Uw kunt zich registreren (zo kunt u altijd uw bestelstatus vervolgen. Dat scheelt tijd bij uw volgende bestelling in onze webshop). Of "Als gast naar de kassa" gaan.
Factuuradres
Geef a.u.b. uw volledige factuuradres aan. Wilt u de levering op een ander adres, vul dan uw leveringsadres aan bij "Stuur naar een ander adres".
Verzendinformatie / leveringsadres
Vul hier het adres in waar de levering heen moet gaan.
Betaling
Kies een betaalmethode. We behouden ons het recht voor de betaalmethode "Factuur" (BillSAFE) in enkele gevallen niet te accepteren. Graag een andere betaalmethode kiezen.
Bestelling
Bij de laatste stap krijgt u een overzicht van alle gegevens en artikelen en het totaalbedrag. Hier hebt u de mogelijkheid alles te controleren en te corrigeren. Hier moet u ook onze algemene voorwaarden bevestigen. Door klikken op "Bestelling verzenden" wordt de bestelling rechtsgeldig verzonden. Met ontvangst van de bevestigings-e-mail wordt de bestelling afgesloten.
Hoe kan ik betalen? Welke betaalmethodes worden geaccepteerd?
U kunt bij ons via verschillende methodes betalen: vooruitbetaling, PayPal, IDeal, creditcard (MasterCard, American Express, Diners Club of VISA), Klarna (koop per rekening). U kunt uw bestelling ook persoonlijk in ons magazijn in Erkrath in de buurt van Düsseldorf ophalen.

Meer informatie over onze betaalmethodes vindt u hier.
Wordt er ook naar het buitenland geleverd?
Hier vindt u een overzicht van onze leverlanden, verzendmethodes en verzendkosten.
2. Behangen
Is het mogelijk behangen over te schilderen?
Afhankelijk van het materiaal is het mogelijk onze behangen over te schilderen. Schuimvinylbehangen op basis van papier of vlies kunnen tot 7 keer overgeschilderd worden. Gebruik daarvoor gewoon dispersieverf of latexverf. Tot onze bestsellers behoren overschilderbare reliëfbehangen op basis van een vlieslaag. Deze zijn met 1,06 m breedte twee keer zo breed als de gewone behangen. Je hebt zo minder voegen. Op die manier werk je snel en effectief, dat is vooral bij grote oppervlakken een voordeel.
Is het mogelijk een behangstaal te bestellen?
Het is niet gemakkelijk om uw favoriete design te kiezen. Daarom kunt u bij ons een of meerdere behangstalen van het gewenste artikel bestellen. Op die manier kunt u zichzelf makkelijk overtuigen van de fantastische kwaliteit van onze producten. Thuis kunt u op uw gemak de kleuren, de structuur en het materiaal bekijken en betasten. U kunt alles uitproberen, combineren en dan beslissen. Het bestellen van een behangstaal voorkomt een koop waar u niet tevreden mee bent.
Wat betekenen de icons op het etiket dat bij de behangrol ligt?
Op de roletiketten staan alle juridische en belangrijke productinformaties. Deze informatie is in de handel gebruikelijk en wijst op productcertificaties en producttoelatingen.
Hier vindt u uitleg over de gebruikelijke kwaliteitssymbolen en keurmerken.
Wat is renovatievlies?
Liefhebbers van een eigentijds interieur houden van een effen sober renovatiebehang om over te schilderen. Het is milieuvriendelijk en bestaat uit 100 % ademend puur vliesvezel. Het hoogwaardige renovatievlies zonder structuur en zonder coatings is een duurzaam ijzersterk materiaal voor de renovatie van wanden en plafonds. Het is geschikt voor alle soorten wanden en wanden van gipskarton. U kunt renovatievlies ook gebruiken als scheuroverbruggende ondergrond voor behangen of voor decoratieve technieken. Renovatievlies is puur glad vlies – zonder structuur, zonder toplaag – in verschillende diktes. In tegenstelling tot glasweefselbehang is renovatievlies huidsympathiek en ademend. Je kunt het droog weer van de wand aftrekken. Net als glasweefselbehang of structuurbehang kun je renovatievlies meerdere malen met dispersie- of latexverf overschilderen.
Wat is een (visueel) patroon?
Een patroon is een afgesloten deel van een dessin. Een patroon op een behang of stof wordt meerdere malen herhaald. Meerdere patronen geven een compleet beeld weer. Een visueel patroon betekent ook dat een dessin door de rand van het behang wordt afgesneden en met bijplakken van de volgende baan ontstaat er weer een heel dessin. Bij een verzet patroon heb je twee kenmerken: een patroon én een verzet, bijv. 64 / 32 cm. Dat betekent dat het patroon 64 cm hoog is en de volgende baan met een verzet van 32 cm wordt opgehangen.
Hier vindt u uitleg voor de gebruikelijke kwaliteitssymbolen en keurmerken.
Welke behangen kun je als onderlaag voor creatieve schildertechnieken gebruiken?
Creatieve schildertechnieken zijn heel populair. Met overschilderbare structuurvliesbehangen en makkelijke schildertechnieken kunt u uw wensen in handomdraai realiseren. Voordelen van structuurvlies ter overschildering: - blijven op maat, kunnen zonder inweken verwerkt worden - meermaals met dispersie- of latexverf overschilderbaar - bijzonder indrukwekkende effecten mogelijk met verschillende creatieve technieken - zonder resten droog weer van de wanden verwijderbaar - geschikt voor alle kamers (kantoor, kinderkamer, slaapkamer, woonkamer, hal …).
Fleur uw kamer op naar uw wensen. Ontwerp uw eigen woongevoel. Als u na een tijdje weer iets anders wilt, hoeft u de wanden niet opnieuw te behangen want structuurvliesbehangen zijn voor meermalig overschilderen gemaakt. Hier vindt u tips en trucs en creatieve ideeën voor uw individuele wandstyling. Met een beetje fantasie en creativiteit kunt u makkelijk uw thuis mooier maken of hernieuwd inrichten.
Welke voordelen hebben vliesbehangen?
Vliesbehang is de meest successvolle innovatie op het gebied van behangen in de afgelopen jaren. Het dragermateriaal van het vliesbehang bestaat uit vochtresistent én duurzaam kunstvezelvlies op basis van cellulose (dit betekent ook, dat een rekken of bederven door de vochtigheid van de pap wordt voorkomen). Vliesbehang is trekvast en kan kleinere scheuren of barsten overbruggen.
Vliesbehang is:
glasweefselvrij , niet giftig en afwasbaar (in mindere of meerdere mate ook afhankelijk van de overgeschilderde verf)
trekvast, maathoudend ook in vochtige toestand
duurzaam (behangen op basis van kunstvezelvlies zijn veel duurzamer dan behangen op basis van papier)
volkomen en droog verwijderbaar
bij een latere renovatie van u kamer kunt u het vliesbehang zonder resten van de muur verwijderen)
Wij bieden u een grote keuze aan behangen op basis van kunstvezelvlies. Kiest u uit een grote hoeveelheid van speelse bloemenpatronen, marmereffecten met structuur, glanzende pasteldessins of schilder- en spateltechnieken.
Hoe kan ik uitrekenen hoeveel behang ik nodig heb?
Meet de lengte en breedte van de kamer die u wilt behangen. Nu neemt u 2 x de lengte en 2 x de breedte van uw kamer. U hebt nu de omvang van de kamer. Meet nu hoe hoog de kamer is. Met ons rekenplaatje kunt u nu het aantal rollen zien dat u nodig hebt. Met overblijfsel van 10% is al rekening gehouden. Hebt u een patroon, reken dan wat meer.
Behangen met vliesbehang
Bij het behangen van vliesbehang is het meestal niet nodig de wand voor te behandelen. Je plak de behang droog op de gestijfselde wand, afknippen, klaar. Je kunt ook zo als gewennt de pap op de rug van de behangban smeren. Hierbij hoeve niet met inwektijd rekening te houden. Middels deze noderne techniek kunt u snel en precies werken. Je hoev geen behangtafel meer. Het beste resultaat krieg je als het ondergrond droog en gladd is.
Belangrijk: U hebt een speciaal vliesbehangplaksel nodig voor vliesbehang.
Voor vliesbehangen of zware vinylbehangen hebt u speciaal behangplaksel nodig. Welk behangplaksel u nodig hebt is afhankelijk van het soort behang en de toestand van de muur. Voor afstripbare behangen en zware vinylbehangen hebt u een speciaal behangplaksel nodig. Wij bieden voor ons behang speciaal behangplaksel aan. Het heeft een extra sterke plakkracht maar vooral vertoont het een heel snelle aanhechting tijdens de verwerking. PROFI-behangplaksel voor vliesbehangen en PROFI-behangplaksel voor vinylbehangen op papierbasis zijn uitermate geschikt voor renovatie en behangen van alle wanden en plafonds.
Onze PROFI-behangplaksels zijn moderne instantplaksels. Dat betekent dat ze na het aanroeren van de poeder al na enige minuten gebruiksklaar zijn. Ze zijn zuinig, klontvrij, geurvrij, laten geen vlekken achter en bieden een betrouwbare bescherming tegen besmetting met schimmel.
3. Ceiling decoration
Kun je Orac-zuilen en halfzuilen inkorten?
Of je een zuil goed korter kunt maken is niet afhankelijk van het materiaal maar van de vorm. Bij een conische zuil wordt de doorsnede op de lengte gezien kleiner. Als u de zuil korter maakt, ontstaat bij de verbinding met de sokkel of het kapittel nu een sleuf. Deze moet u met een plamuurmesje bijwerken. Dat kost wat tijd. Regelmatig gevormde zuilen met een gelijke doorsnede over de gehele lengte kunt u zonder problemen korter maken.
Is het mogelijk een oneven wand of ronde hoeken met Orac-lijsten en kroonlijsten te decoreren?
Voor oneven wanden en rond lopende muren is Orac Flex de perfecte oplossing. Met deze flexibele lijsten kunt u wanden, muren en plafonds perfect bewerken. Voor het eerst bestaat nu de mogelijkheid oneven wanden, golvingen of zelf ontworpen bochten met flexibele lijsten te realiseren. U kunt flexibele lijsten op dezelfde manier aanbrengen als gewone PU-lijsten.
Flexibele lijsten
Zijn Orac-producten geschikt voor buiten (bv. voor de voorgevel)?
Ja, dat zijn ze. Gebruikt u dan in plaats van onze normale kleefstof DecoFix Pro uitsluitend onze kleefstof DekoFix Hydro. We adviseren u een hoogwaardige verf voor buiten te gebruiken.
Is het mogelijk de kleefstof FDP500 voor het aanbrengen van lijsten in de keuken of in een wc (zonder douche) te gebruiken? Of is dit i.v.m. vocht problematisch?
Dit is over het algemeen geen probleem, tenminste als de ondergrond goed absorberend is. Is de wc tot het plafond betegeld, gebruikt u dan liever DecoFix Hydro.
Kun je Orac-stalen bestellen?
Als u niet meteen voor een bepaalde sierlijst kunt kiezen, bieden we u onze stalenservice aan. Bij ons kunt u een of meerdere Orac-lijstenstalen bestellen (de lengte van een staal is rond 10 cm). Op die manier hebt u de mogelijkheid zich te overtuigen van de excellente kwaliteit van de multifunctionele Orac-sierlijsten en decorelementen. Neemt u de tijd om geheel op uw gemak thuis alle combinaties uit te proberen en te overdenken.
Lijstenstalen bestellen
Wat zijn de verschillen tussen de LUXXUS-, AXXENT- en BASIXX-collectie?
Orac LUXXUS is het exclusieve merk van Orac DECOR®. Orac LUXXUS omvat een unieke collectie van luxe lijsten en decoratieve elementen. Niet alleen een buitengewoon mooi en creatief design maar ook een gave kwaliteit zijn de kenmerken van Orac LUXXUS. Producten uit de serie Orac LUXXUS zijn geproduceerd van Purotouch®, een hoogverdicht Polyurethan-hardschuim, dat alle goede eigenschappen van hout vertoont. Zijn bewezen uitstekende kwaliteit maakt wrijvingloze bevestiging mogelijk.
Orac AXXENT staat voor een complete kwalitatief hoogwaardige collectie van lijsten. Orac AXXENT is het professionele kwaliteitsmerk van Orac DECOR® en omvat een uitgebreid assortiment van hoeklijsten, kroonlijsten, plinten, lambriseringen en multifunctionele profielen. Met Orac AXXENT kunt u aan elke kamer op hoogwaardige en voordelige wijze vormgeven. Sierelementen uit de ORAC AXXENT collectie accentueren elke inrichtingsstijl van klassiek tot modern. Op zich of in combinatie met sierelementen maken lijsten uit de Orac AXXENT- collectie het creëren van sfeer en originaliteit op talloze manieren mogelijk.
Orac AXXENT-lijsten zijn van Duropolymer® (niet van broos en breekbaar piepschuim), een geëxtrudeerd, schokvrij en waterbestendig materiaal en daardoor ideaal voor plinten en lambriseringen. Een extra voordeel: Duropolymer® is 100% recyclebaar.
De Orac BASIXX-collectie vertegenwoordigt een aansprekend design voor een onovertroffen prijs-kwaliteitverhouding. Deze lijsten hebben een innovatieve, jonge optiek en passen bij een moderne en een klassieke woonstijl. Orac BASIXX is een collectie waarmee aan elke kamer op hoogwaardige en voordelige wijze kan worden vormgegeven.
Orac BASIXX lijsten worden geproduceerd van geëxtrudeerd licht polymeer op basis van een gemiddeld dicht polymeermengsel. Dit revolutionaire productieproces is exclusief ontwikkeld voor Orac BASIXX door Orac DECOR®. De sierlijsten van Durofoam®, de gepatenteerde kwaliteitskunststof hebben een zijdegladde oppervlakte en beschikken over een exacte weergave van profielkanten.
Waar moet ik op letten als ik een rozet voor een luster monteer?
De meeste Orac-producten hebben een speciale uitsparing voor de kabel. Als u de lamp monteert moet u deze opening voor de kabel uit de rozet knippen of boren. Let u erop vóór het vastplakken van de rozet een haak aan het plafond te bevestigen die sterk genoeg is om een zware luster te dragen. Ook minder zware lampen hebben een passende haak nodig.
Wat is het verschil tussen Orac DECOR -producten en andere lijsten?
Een verschil tussen 'echte' lijsten van gips of hout en de lijsten van Orac DECOR is optisch niet te zien. In vergelijking met stucelementen van gips of hout hebben Orac DECOR-producten een paar belangrijke voordelen: minder gewicht, grotere stabiliteit en gladde oppervlaktes. Alle motieven, sierelementen en lijstenkanten zijn exact en scherp. Goedkopere lijsten en decoratieve elementen zijn geproduceerd van polysterolschuim. Deze worden niet zo nauwkeurig gemaakt en hebben minder scherpe kanten. Daarom zijn polysterolschuimlijsten minder exact en soms onregelmatig. Het decor is minder uitgewerkt. Bovendien kunt u polysterollijsten minder goed snijden; ze hebben de neiging af te breken.
Wat moet ik doen als een kroonlijst niet in een hoek van de kamer eindigt maar ergens midden in de kamer bij een trap bijvoorbeeld, dus op een plek waar je tegen het einde van de lijst, en dus de holte erachter, aan kunt kijken?
In dit geval wordt het einde van de lijst net als een buitenhoek schuin toelopend afgesneden. De lijst verloopt dan niet om de hoek maar 'de wand in' (plaatje).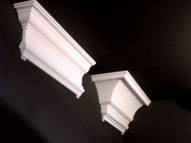 Kunnen de sierlijsten ook buiten worden gebruikt?
U kunt bepalen of het gewenste product geschikt is voor buitengebruik door te kijken naar het label in de productbeschrijving.
Hoe kunnen sierlijsten buiten worden geplaatst?
Gebruik uitsluitend onze buitenlijm voor de installatie buiten en een kwaliteitsverf die geschikt is voor buitengebruik. We raden aan om extra te bevestigen met schroeven en de compatibiliteit van de lijm te controleren met verschillende productmerken.
(Orac / DecoFix Power, Profhome / Profhome G10U290, NMC / NMC DOMOSTYL Hybrid)
U kunt een gedetailleerde montagehandleiding downloaden in de productinformatie van de gevelelementen.