Renovatievlies – hoogwaardig vliesbehang zonder structuur en zonder toplaag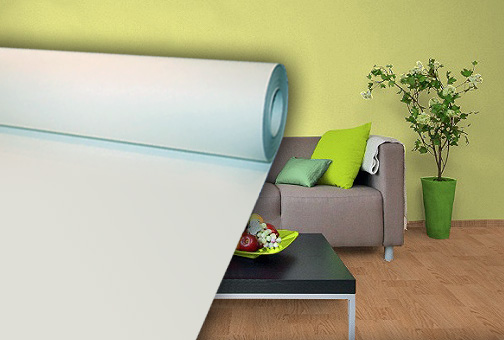 Renovatievlies (hoogwaardige 100% pure en ademingsactieve vliesvezels) is een duurzaam materiaal om gladde wanden mee te renoveren of op schilderen voor te bereiden. Renovatievlies is geschikt voor gipskartonplaten en goed voorbereide wanden. renovatievlies 110 g is geschikt als scheuroverbruggende (bij kleinere scheurtjes) ondergrondlaag voor het behangen en als ondergrond voor decoratieve plamuurtechnieken. Na afwerking kan de wand direct worden bewerkt met latex of behang.
Renovatievlies biedt een hoge bescherming tegen scheurtjes in de wand. Het is voor nieuwbouw net zo geschikt als voor oude gebouwen. Na afwerking kan de wand direct worden bewerkt met latex of behang.
In tegenstelling tot glasvezelbehang is renovatievlies huidsympathiek, ademend en droog afstripbaar.
Toepassing / voorbereiding:
Het is belangrijk de wand met renovatievoorstrijk, diepgrondering of tiefengrund te bewerken. Na de op het product aangegeven droogtijd kunnen de wanden met behanglijm ingesmeerd worden; de behangbanen plakt u (zonder inweektijd of insmeren) tegen de wand. Het mooiste resultaat bereikt u met een effen ondergrond (met niet effen ondergrond kan het gebeuren dat de kleur eronder een beetje doorschijnt). Als de wand goed gegrondeerd is, plakt u het renovatievlies makkelijker tegen de muur en later hoeft u niet zo vaak te schilderen. De verf blijft aan de oppervlakte van het behang zitten en trekt niet in de ondergrond.
Renovatievlies is goed stotend aan te brengen en is met een beetje ervaring prima door doe-het-zelvers te verwerken. renovatievlies kan tegen de met behanglijm ingesmeerde wand geplakt worden.
Stalenservice:
Als u er niet helemaal zeker van bent welk vlies het beste voor uw woning is, kunt u in onze onlineshop tegen een kleine vergoeding behangstalen bestellen (categorie behangstaalservice). We verzenden deze normaal gesproken nog op dezelfde dag.